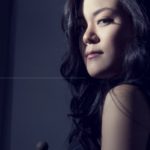 We are  honored to host Sey Ahn as the conductor for the 2019 Kansas All-State Orchestra.  She has conducted All-State orchestras in Colorado, Kentucky, Texas, New Mexico, Arizona, Iowa and Tennessee. She holds a bachelor's degree in piano performance from Northwestern University Bienen School of Music.  Her Master's degrees in Piano performance and orchestral conducting are from the Thornton School of music of the University of Southern California.
Born in Seoul, Korea, Sey Ahn began playing the piano at the age of three. As a student at USC
, Ms. Ahn 
was among a cohort of nine conductors chosen from a field of one hundred applicants to enroll in the 
Kurt Masur Conducting Seminar at the Manhattan School of Music. While the youngest participant in the 
Seminar, she was subsequently chosen by Maestro Masur to conduct in the final concert. She has also 
participated in prestigious conducting symposia throughout North America. 
Since 2011, 
Ms. Ahn has served as Assistant Conductor of the Music for All Honor Orchestra and Principal Guest 
Conductor of the Diamond Bar High School Orchestra. In the fall of 2011, she was appointed as a co-
conductor and administrator of the USC Concert Orchestra. 
The literature for this year's 117 piece full orchestra is the 4th movement of Mahler's 1st symphony and Marche Slav by Tchaikovsky.