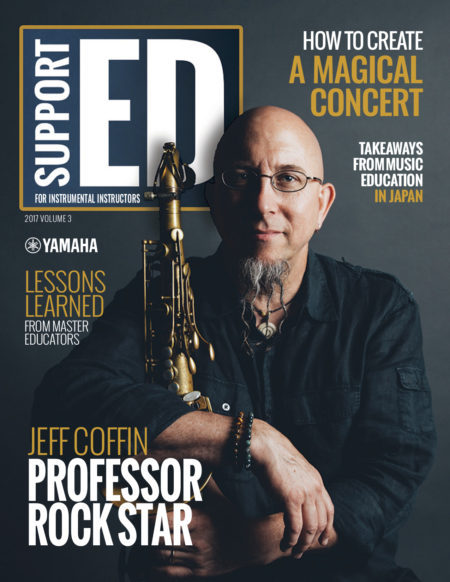 This article is sponsored by Yamaha Corporation.
BUENA PARK, Calif. (July 31, 2018) – Yamaha SupportED, a magazine produced specifically for instrumental band and orchestral teachers, once again has won a Content Marketing Award – this time for Best Content Marketing Program in Education. SupportEd also placed as a finalist for Best Print Publication – Editorial.
"I'm incredibly honored that SupportED continues to be recognized for the quality of its content," says John Wittmann, director of artist relations and education for Yamaha. "Having been a band director myself, I know firsthand the impact that studying music can have on students; and how challenging and fulfilling the work is for a music educator. SupportED is one of a suite of products and services that we bring to help motivate and support music educators in this literally life-changing work."
The Content Marketing Awards, produced by the Content Marketing Institute, is the largest and longest-running international program of its kind. This year's panel of all-star judges reviewed more than 1,100 entries to choose the best of the best in content marketing excellence, recognizing all aspects of content marketing, from strategy to distribution, and from editorial to design.
In 2017, Yamaha SupportED won the Content Marketing Award for Best Print Publication – Editorial, and placed as a finalist in three additional key categories: Best Content Marketing Program in Education, Best New Print Publication – Design, and Best New Print Publication – Editorial.
Launched by Yamaha Band & Orchestral Division in 2016, SupportED empowers educators to learn directly from their peers' experiences. The quarterly print and digital publication features articles written by and about real teachers, inspiring artists and enlightened experts who share the company's commitment to keeping music education thriving.
Digital editions of SupportED are available at www.YamahaSupportED.com. To learn more about Yamaha Corporation of America, please visit http://4wrd.it/YAMAHAUSA
About Yamaha
Yamaha Corporation of America (YCA) is one of the largest subsidiaries of Yamaha Corporation, Japan and offers a full line of award-winning musical instruments, sound reinforcement, commercial installation and home entertainment products to the U.S. market. Products include: Yamaha acoustic, digital and hybrid pianos, portable keyboards, guitars, acoustic and electronic drums, band and orchestral instruments, marching percussion products, synthesizers, professional digital and analog audio equipment, Steinberg recording products and NEXO commercial audio products, as well as AV receivers, amplifiers, MusicCast wireless multiroom audio systems, Blu-ray/CD players, earphones, headphones, home-theater-in-a-box systems, sound bars and its exclusive line of Digital Sound Projectors. YCA markets innovative, finely crafted technology and entertainment products and musical instruments targeted to the hobbyist, education, worship, music, professional audio installation and consumer markets.
Contact:        Peter Giles/Giles Communications
(914) 644-3500 ext. 700 (pgiles@giles.com)