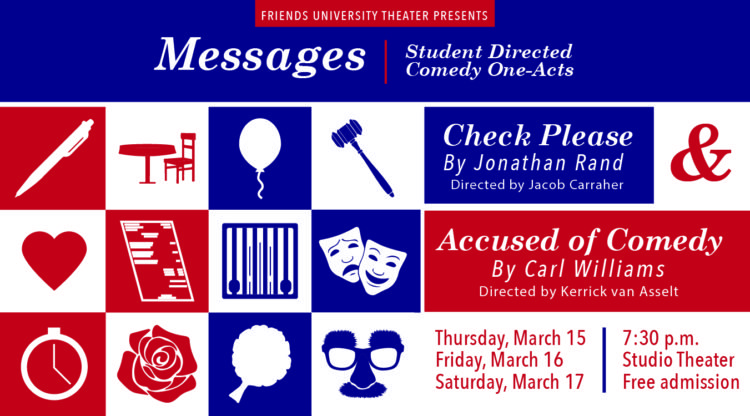 Friends University theater-enrolled class members will each present their very own one-act plays, compiled into a production titled Messages.
"All kinds of shows will be presented," said Kurt Priebe, assistant professor of drama and media. "Shows may be comical, dramatic or very serious."
Students have the full freedom to pick their own show. Cast, topic and length may all vary. Student directors will create the plot, help their actors build character, decide technical needs and more.
Messages is free and open to the public. The performance will take place March 15-17 at 7:30 p.m. in the Studio Theater (D6) inside Friends University's Riney Fine Arts Center, located at 2100 W. University Ave., Wichita, Kan.
For more information on this event or other Fine Arts events, please contact the Fine Arts Box Office at 316-295-5677 or finearts@friends.edu.
Friends University, a Christian University of Quaker heritage, equips students to honor God and serve others by integrating their intellectual, spiritual and professional lives.