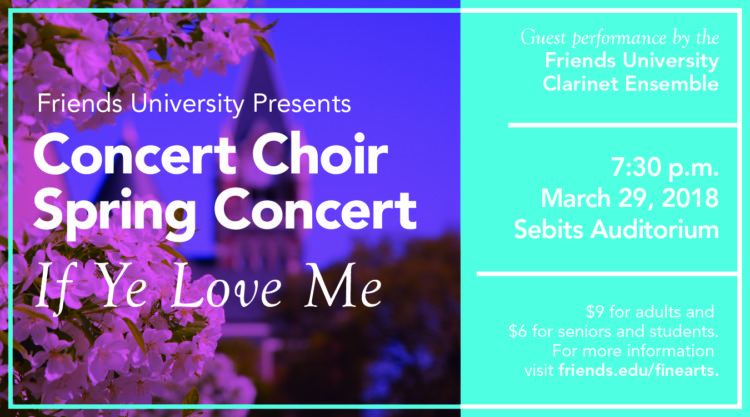 The Friends University Concert Choir will present its spring program on Maundy Thursday March 29 at 7:30 p.m. in Sebits Auditorium, Riney Fine Arts Center.
"The Concert Choir's spring concert, 'If Ye Love Me,' will weave together music that encompasses the love of the Godhead for us with our love and adoration for Christ and for one another," said Concert Choir Director Rolaine Hetherington.
The night will be filled with the music of love, including works by Rachmaninoff, Thompson, Tallis, Gjeilos, Rodgers and other favorites. The Friends University Clarinet Ensemble will make a special appearance and Concert Choir alumni will be invited to join the choir in singing "Jesus, I Adore Thee" at the close of the concert.
The performance will take place in Sebits Auditorium on the Friends University campus at 2100 W. University Ave., Wichita, Kan. Ticket prices are $9 for adults, and $6 for seniors and students.
For more information on this event or other Fine Arts events, please contact the Fine Arts Box Office at 316-295-5677 or finearts@friends.edu.
Friends University, a Christian University of Quaker heritage, equips students to honor God and serve others by integrating their intellectual, spiritual and professional lives.