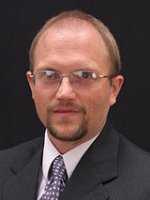 "Wouldn't it be interesting if all teachers had to take each of their classes to a festival for their subject and have judges adjudicate the quality of their teaching based on the levels at which their students perform?"
I have heard many comments like this from many music teachers over the years. The traditional large ensemble music festival model took shape in the 1930's and has continued to have a great impact on the way in which music education is provided in the secondary schools across the nation. With its many benefits ranging from accessing expert advice from adjudicators to providing an opportunity to hear peer ensembles perform to getting out of school for the day, teachers must also deal with the stress and pressure of putting their ensembles on display for all to see and hear. This creates a type of stress that few other faculty in the schools have experienced, and it causes many of us to pose my opening question.
While festivals can cause a great deal of stress in the typical music teacher, we also recognize the value behind them. They give us a goal to shoot for in which we strive to be our very best. They give us an opportunity to teach great art music. They give our students an opportunity to experience what it is like to work under pressure and the chance to hear advice from other educators. Because of these benefits, we continue to take our ensembles to district and state festivals each spring. This month, we asked various teachers from around the state what they do as they prepare for festival. It is our desire that their sage advice may help you and your ensembles as you prepare for this spring's festival season.
What is your philosophy about how you approach festival? How has it changed throughout your career?
We as music educators tend to put far more emphasis on this one day than it truly deserves. Receiving feedback and evaluation is important; however, that one performance does not define your entire year, nor is it an indictment of you as an educator. Sometimes a III rating is a major accomplishment for an inexperienced or rebuilding program. Sometimes there are factors that are beyond your control and the performance (and rating) doesn't go the way you expected. Yes, receiving high scores and plaques makes people feel good, but when I reflect back on the most musically rewarding and meaningful performances our bands have had, not a single one of them occurred on a festival stage. Instead of focusing on a single performance, focus on on the continual process of helping your students grow musically over the course of the year.
Justin Love, Olathe North HS, Director of Bands, KMEA East Central District President-elect
Something I have added over time is a type of research page where the singers independently learn about their festival selections in regard to musical elements, text meaning, and compositional techniques – we then compile those ideas in class and develop a group interpretation of the selection.
Jane Vanderhoff, Garden City Choir Director, Retired & 2014 KMEA Music Teacher of the Year
While I always want to impress the judges and get good ratings, festival has become much more about my students and I can get from the experience. Hard work, practice, teamwork, mental fitness, professional attitude, good literature, etc. are far more important than ratings.
Eric Crawford, Wichita East HS Orchestra Director, Wichita Public Schools String Curriculum Coach
I have always wanted my students to work on making music the best they can and creating a product they can be proud of.
Susan Nelson, Decatur Community J/S High School Choral Director
To be completely honest I have always viewed festival as a necessary evil.  I'm sure it is me, a problem with my educational philosophy, or my competitiveness, or my personal feelings of inadequacy, but I have never enjoyed it.  I feel like it is not only a performance adjudication, but also the judgement of my abilities as an educator to pick literature, to prepare a group, etc.  The truth is festival is a crapshoot.  One of my mentors used to say "a judge can always justify a II." I think that is true.  When dealing with high school students, mistakes will be made, no matter how prepared a group is.  For some adjudicators it doesn't take many mistakes to justify a II rating.  Unfortunately, anything less than a I rating feels like a failure to me. Again this is a personal issue/problem.  This is no way to live your life, and I do my best to shield my students from this flaw in my character.  In my 18 years at Derby my band has received a II rating three times, and I remember them all.  The other fifteen I hardly recall, plaques are still in the boxes.  Don't be like me…is my advice.  All that said I think festival pushes students to excel and gives needed feedback to directors/students.
Throughout my career my anxiety level regarding festival has definitely diminished.  The realization that you have very little control over what happens the day of has helped me with that.  Be prepared, and things should go the way you expect. If they don't, you get another shot next year, learn from the experience and move forward.
Adam Devault, Derby HS Director of Bands
What do you want your students to get out of their festival experience?
My goal was for my students to experience a "peak" performance; one at our highest level for knowledgeable people, who will then provide feedback, not so much about the pieces we performed, but about skills we can work on to improve our performance level.
I also hoped that they gained a sense that they have made a new friend in the form of a piece that they have internalized as a group….
Jane Vanderhoff
I want my orchestra students to understand there is more to a performance than just notes and rhythms.  I want to help them "peel the onion" and get down to the core of the music. I want them to understand how to make music out of the notes on the page and perform expressively. I want them to understand that excellence takes effort and they are capable of this excellence if they are willing to work at it. I want them to learn how to listen critically and evaluate.  Finally, I want them to feel a sense of pride in their efforts and appreciate the efforts of others.
Frances Oare, Wichita Coleman Middle School, 2016 KASTA Certificate of Merit
I simply want our students to enjoy playing the music we have worked on.
Justin Love
What have you learned about choosing music for festivals?
The Teaching Music Through Performance books are a great resource both for choosing music and for reference after I have chosen what we're going to play.  It is extremely important that you choose music to "fit" your instrumentation.  I want to challenge my ensemble, and I often choose a piece that specifically targets an area we need to improve in, ie legato playing.  In my early years, I was very stubborn and would insist on playing music at festival that was too hard for my groups.  I have since learned that it's okay to play those pieces — just not in that venue.  I want my students to feel successful, and therefore, the goal needs to be choosing music that is attainable and enjoyable.
Jamie Minneman, Marysville Band Director, KMEA North Central president-elect
It seems obvious, but read all of the guidelines carefully, regarding genre, number of selections, time limit, accompanied or a cappella selections. Early on I chose from what I knew, as everyone does. Over time I've tried to cover a balance of styles, time periods, moods, cultures… You can focus on challenging your choirs through a more difficult piece or style, or developing a specific aspect of musicianship – of course both are important!  Keep your accompanist in mind as far as styles; in a festival setting, they can really add to the success of the choir if it is a style in which they excel.  Set up a pre-festival performance of some kind; even at a different location if possible – this helps them make necessary acoustical adjustments on the spot, and builds confidence.
Jane Vanderhoff       
Choosing the correct music is the most important thing you will do.  New teachers often make the mistake of choosing something they remember playing or enjoying as a student but it does not fit their students. Make sure the music plays to your strengths as an ensemble. I try to choose something that I know the students will enjoy playing because we are going to spend a lot of time nitpicking and really tearing it apart. Make sure it will challenge the students to grow but not be so hard that you are spending all of your time learning notes and rhythms. You must have time to work on playing in time, in tune, in tone, in balance, in style, and together, while making music and phrasing.
Frances Oare
Pick high quality music. Use the resources available to you – published lists such as the KSHSAA Prescribed Music List; lists from other states and professional associations; and the many different books that focus on quality music for school groups. Play music that is engaging for both you and the students. No matter the grade level, there is quality music written for all ages and groups. Don't be afraid to play standard literature. Yes the judges will know it well, but if you are going to spend a considerable amount of time on the music, it should be music that has stood the test of time.
Justin Love
Pick QUALITY music that will challenge your students musically. Not music that the kids have to fight the notes, words, rhythms to get through. They will NEVER be able to sing musically if they struggle with the rest!
Susan Nelson
In my very first festival one of the adjudicators commented that my two selections were too similar. Both were ABA overture-type pieces. Since then I have been very careful about having contrast between my selections. This, however, doesn't necessarily mean slow and fast (although that is fine too). It could be a baroque piece and a modern piece, or a folk style piece such as a reel and a romantic work. There are many ways to get good contrast in your selections. While music for festival doesn't have to always be "serious" or "academic," I do try to avoid novelty pieces — and pop music is out of the question.
Eric Crawford
I always choose literature that challenges the ensemble, I almost always (99% of the time) choose a march, and almost always (90%) choose something from the "Classic" Band Repertoire as my other piece.
Adam Devault
Teachers often try to make their festival performances especially clean and polished. What kinds of things do you do to really polish your pieces?
I spend more time on intonation issues and polishing chords, really getting kids to understand what they need to do to adjust, especially the thirds of the chords.  We also try to play in different locations and even in different seating arrangements to allow the students to hear other parts they may not typically hear.  I like to record the ensemble over the course of our preparation so they can really hear where we need work.  As we get closer I'll have them adjudicate themselves using the rubric, and it's interesting how hard they are on themselves; but it usually gives them that incentive to really strive for perfection in the last few rehearsals.
Jamie Minneman
It is so important to collaborate with other musicians; after a while you lose your sense of what is really happening in the piece – bringing in other colleagues to clinic my choirs on their selections gives me "fresh ears." It also helps the singers move to the next level of preparation.
Jane Vanderhoff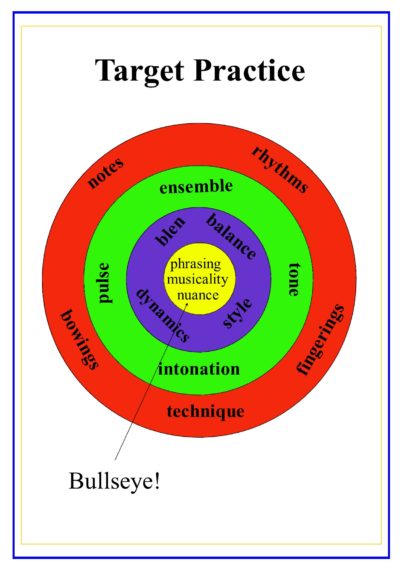 I went to a workshop at a national conference where an experienced adjudicator made the comment…."If the group has all of the notes and rhythms perfect and plays in tune with a decent sound they have achieved a III."   Then he went on to explain what it took to get to that elusive "I".  From this wisdom, I developed my own poster I call "Target Practice."  It has a large target drawn on it with several layers.  The outer circle has the words "notes, rhythms, fingerings, bowings, technique"…the second circle has the words "ensemble, tone, pulse, intonation"…the third circle says "dynamics, blend, balance, style"….then the inner most circle (the bullseye) says "phrasing, nuance, style."  This hangs on my wall in the classroom and we use it as a class to evaluate our progress as we prepare.  We are always working on the layers and details while aiming for the bullseye and musical moments.
Frances Oare
Fundamentals, fundamentals, fundamentals. The more time you spend on helping your students play/sing with good basic technique and musicianship, the easier it will be to learn your festival pieces and the easier it will be to achieve those higher level musical skills.
Justin Love
For me, polish means including the top rows of my pyramid of priorities. I want to achieve a truly musical performance. I don't want the audience to say, "That was a great performance for kids." I want them to say, "That was a great performance." I want to be able to fully trust my ensemble at festival.
Eric Crawford
Record the group, listen to recording, breakdown performance piece by piece, notating corrections that need made/things that need work etc.  Also have guests out to work with the groups during festival season, give feedback.
Adam Devault
What have you learned about the logistics involved with taking your ensembles to festival?
Leave plenty of time for travel. Once at the festival site no need to be in a hurry.  Make sure the stage is set the way you want it, and that kids are comfortable. Always play a little before you play your pieces — you have no idea how the stage is going to sound, neither do your students. Play something (I use a choral) and then talk briefly with the students about what you hear/what they hear before you announce your pieces and get started.
Adam Devault
The more students rehearse logistics ahead of time, the more comfortable they (and you!) will feel.  I walk students through hallway expectations, audience guidelines, and expectations for warm up, performance and sight-reading several times to help prepare them.  We practice the sight-reading process frequently to help alleviate the anxiety that often accompanies that particular room. Students always seem to handle things better when they know exactly what to expect in a situation.
Cathy Tummons, Wichita Christa McAuliffe Academy, orchestra teacher, 2015 KASTA Young Teacher of the Year
Plan for the unexpected.  Make sure you bring emergency supplies, strings, rock stops, rosin, and extra music.  Talk the students through the day (especially if you're taking middle school students to festival). I teach them what to expect and what I expect from them,  how to walk in the hall between the auditorium and where we leave our cases, and since we do sight reading, I teach them a procedure to follow in the sight reading room.
Frances Oare
Don't leave things to chance if at all possible. If you're not sure about the host site having certain equipment, email them and find out. They should tell you ahead of time, but if they don't, ASK! Even though I (mostly) trust my students, I handle their music. I collect it ahead of time and keep it in a folder in my bag so no one has the opportunity to lose or forget anything. I do the same with percussion sticks, mallets, auxiliary, etc. When planning travel, remember that a little extra down time is much better than being pressed for time. You and your ensemble want to be calm, cool, and collected going in to your performance.
Don't be surprised when something goes wrong, because it will at some point, no matter how much you prepare and remind your kids. Your only low brass player will be sick, or a student will forget it's contest day and wear a camouflage t-shirt and jeans. Be prepared to deal with way too much or too little air conditioning. Make your students aware of things that could happen or situations they may have to deal with, especially percussionists. Be flexible, go with the flow, and don't be afraid to ask another director to borrow equipment if you forget something.
Katie Topp, Sabetha Director of Bands, 2016 KBA Outstanding Young Band Director
What do you have your students do while they're at festivals? 
Usually we have limited time, so we show up, warm-up, perform and then head back to the school.
Adam Devault
I want them to watch other performances – but they usually don't – FRUSTRATING!
Susan Nelson
I talk about the adjudication process with my students as we are preparing and we develop a condensed rubric to use at festival to evaluate the groups they listen to.  At festival I hand them a handout with the name of the groups they are listening to and the pieces they will be playing.  Under each group are some questions about the music; what they hear and see — general questions like "if the music told a story, what might the story be about" and specific questions about intonation and bow style, then the rubric.   The students answer the questions and grade the groups using the rubric and I collect it as they leave the festival.  I make it a part of their overall grade for the day.
Frances Oare
I always give my students an assignment to watch at least one other band at festival.  We talk about the rubric used and about the different criteria before we go, and I make a copy for each of them.  Their assignment is to adjudicate the band of their choice and provide comments and constructive criticism on the back.  I feel this gives them a better idea of what the judges are listening for and gives them a different perspective from which to listen outside of their own band.
Jamie Minneman
Singers can take a rubric with them and rate other choirs. They can also make  a list of songs they hear that they would like to perform.  It definitely is a day of sharing; if they are scheduled so tight they can't hear other groups, they are missing a major component of the process.
Jane Vanderhoff
What do you do in that time between league festivals and state festival?
Of course we will read the city-league comments and try to implement those suggestions that we agree with, but the turn-around time for our final concert happens so quickly after festival that we have to start new music before state.
Eric Crawford
What type of mindset do you try to instill in your students? What have you learned in regard to creating the type of attitude you're after within your groups?
 In Derby we try to instill the mindset that band is family, we wish success for everybody from every school because they are a part of that family.  We also work hard to instill the mindset that Derby bands and excellence are synonymous.  We perform at a very high level, it's what we do, expect nothing less.  To achieve excellence every person in every group is personally responsible for their part, everyone else is counting on you. Once established the students teach it to each other, its passed on from class to class
Adam Devault
It's their choir; they will find success through taking ownership in each piece.
Jane Vanderhoff
I like the process of preparing for festival and the learning that goes on, but personally, there are some days I say "I hate festival" (although my students will not hear this out of my mouth).  I want the students to go for that "I" and we discuss "striving for perfection" but that it is almost impossible to be "perfect." I try to downplay the scores so their entire experience is not just a wrapped around what score they got. We talk about how different judges see things differently and are looking for different things in a performance and that is normal and "OK."
Frances Oare
If you focus on the fundamentals and details, the ratings / scores / placement will take care of itself.
Justin Love
I try to avoid talking about RATINGS – often very difficult! We talk about the subjective nature of contest — one person's opinion on one day! I try encourage them to do what they can, as well as they can. We have the luxury of helping all of our students in private lessons for solos so we can offer them quite a bit more than direction than many. I try to focus on the growth and improvement students make, the comments judges make and how to improve! UNFORTUNATELY – they are still focused on the rating (as are mom & dad, administrators etc.) I'm not sure how to change this but I would sure like to!
Susan Nelson
One of the best comments that we get from time to time is on our professional demeanor. I want a group on stage that looks poised and confident. One that knows that all the hard work is done, and now we just have to enjoy sharing what we have accomplished.
Eric Crawford
It's not about the rating.  It's nice to get a "I," but it's more about each student feeling they have given a successful performance and contributed to the overall musical product.  I have had students give their best performance and receive lower scores and others give a low performance and receive high scores. I tell the students that while we are at festival our goal is to share at least one musical moment with our audience, and we only have one chance to do so. I always have students share their personal thoughts on their performance before I share the judges feedback to help students take more ownership in their music. It's far more rewarding for me to hear my students take pride in their own successes and admit areas that still need improvement on their own rather than just repeating words somebody else said.
Cathy Tummons