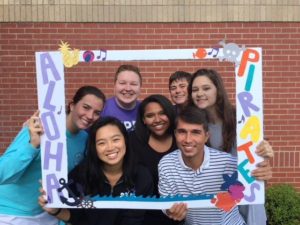 "I'd love to start a Tri-M Music Honor Society chapter but I just don't have the time." This is a common challenge for music teachers on all levels.  You would love to provide an opportunity for your students but  just can't find room to add a chapter to your already packed teaching and performance schedule.  See how three music teachers have found creative ways to incorporate Tri-M into their programs by using events they already host and utilizing their Tri-M members to assist with recruitment and service projects.
Does your band, choir or orchestra already host an audition site or festival?  Do you have a handful of kids who are always reliable when it comes to organizing and volunteering to assist with these events? Adding a Tri-M Music Honor Society Chapter can help reward those who already help out and help recruit new volunteers for events you host. Alex McMahon, Tri-M advisor at Andover Central and his Tri-M chapter focus on service by assisting with their District Audition Day, Middle School Honor Band and Honor Choirs and District Jazz Bands.  Tri-M members work as door monitors, help with concessions and the hospitality room.  
Does your community host events your Tri-M chapter can be a part of? Christine Lovell and Gae Phillips, Tri-M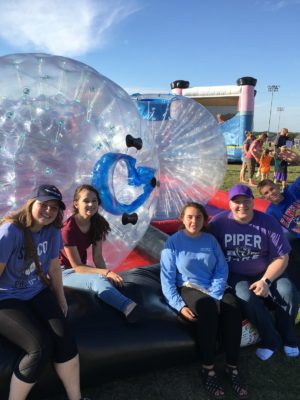 advisors at Columbus High School and her Tr-M chapter members dress as superheros and hand out candy at their community Halloween safe walk.  Shelly Cole, Tri-M advisor at Piper High School and her Tri-M chapter work with the community to provide student volunteers to work the Piperfest Community Festival Carnival.
Do you need to raise funds for equipment or repairs in your music department? Establishing a Tri-M chapter to assist you with service projects and fundraising efforts is a great way to help your kids establish pride in their program, as well as be recognized for commitment to the improvement of performance space and music programs.  Eric Crawford, Tri-M advisor at Wichita East and his Tri-M chapter are working on a series of service projects to help restore the pipe organ at Wichita East High School. Small orchestral ensembles performed at the Aces in the Alley community event with donations going towards the organ restoration. They will also be hosting a benefit concert in December.
Focusing efforts on a shared music space like your auditorium, practice rooms or rehearsal space is also a great team builder for individual programs within your music department.  Many sponsors struggle with their Tri-M membership being choral heavy or band heavy, depending on which director also serves as the Tri-M advisor.  Choosing projects that are focused on a shared performance space can help bridge the gap that separates your choir, band or orchestra from each other.  Providing volunteers for community events that may or may not be music focused can unify your music department through a Tri-M chapter.  Shelly Cole, Tri-M chapter advisor at Piper High School and her Tri-M chapter volunteered to run carnival events at the community Fall festival.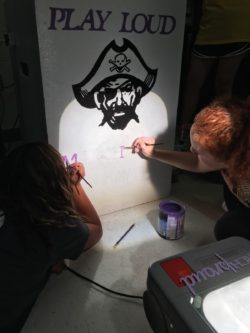 Does your community or school host an event your chapter could help out with?  Providing volunteers for events is a great way to get your chapter and your music students involved in your community.  
Community service is an important part of the development of well-rounded students but not always easy to coordinate.  Perhaps your chapter is the kind of chapter that focuses more on team-building and unity.  Tri-M can support your programs and teach students how to give back but it can also provide a place for your students to develop a sense of family.  The social aspect of Tri-M can help build your program through recruiting tools.  Columbus High School's Tri-M chapter participates in a Secret Santa activity to help members get to know each other better where students send each other notes and identity clues during the month of December. Piper High School Tri-M chapter hosted an ice cream social for new band and choir members in the Fall prior to the first Fall sports scrimmage.  An ice cream social is a fun way to get your year started and help new students connect with members of your music programs.  Ice cream bars and Italian ice pops were purchased from Sam's Club and  cases of water were donated by returning Tri-M members. Piper High School Tri-M board and other members worked diligently to create poster board cut-outs for members to use as photo backdrops and backgrounds to help document all of the smiling faces in PHS' program. To help entertain everyone there, speakers were set up with Spotify radio playing upbeat music. "I'm so pleased with how this event turned out," president of Piper's Tri-M chapter, Isaia Wilcoxen said. "A lot of students showed up and we all had a great time eating ice cream, socializing and playing beach ball. I am excited to see how the rest of the year plays out. We invited our school administration to join along in all of the fun to make our organization feel even more like home and an extremely friendly environment. Overall, this was a huge success and will be a staple in our schedule that we will repeat on a yearly basis to begin the school year with something exciting."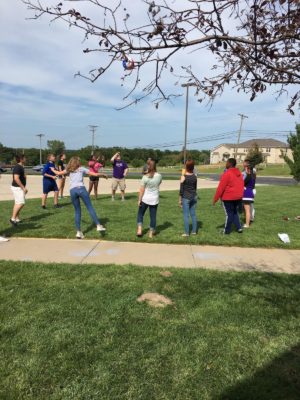 Whether you are looking to add team-bonding, fundraising or community service to your program or to just streamline what you are already doing, starting a Tri-M chapter is a highly rewarding organization for you and your students.  Are monthly meetings necessary? That is really up to you and your chapter.  Andover Central's Tri-M chapter holds bi-monthly activity time meetings where members discuss upcoming events and do team-building activities.  Piper High School's Tri-M chapter communicates with chapter members via Google Classroom instead of holding meetings to coordinate community service projects and activities.  You truly can make your chapter fit you and your student's needs.  Start small.  Hold an introductory meeting and host one social event and one service event per semester.  Coordinate efforts around events you already do.  Have your Tri-M chapter members coordinate a reception for your patrons after your concerts.  Band students can help serve for the choir concert and choir students can return the favor at the band concert.  Do you already have a parent booster group that takes care of that for you?   Have your Tri-M students reach out to them and offer assistance with set-up, serving or clean-up.  Have your Tri-M students hand out programs for your concerts or help out at the middle school or elementary school during their music programs. Whatever your vision  for your music department, let Tri-M help you make it a reality.  If you have questions, need more information or just need to talk through ideas for your chapter, reach out to your Kansas State Tri-M co-chairs, Alex McMahon and Shelly Cole.  You may reach both of them by sending an email to tri-m@ksmea.org.