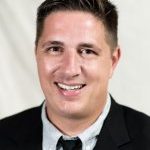 I am honored to join the KMEA family as the jazz education advisor. I was fortunate enough to present two clinics in 2018 and have played in the educator big band the past four years. I look forward to becoming a resource for educators around our wonderful state regarding all things jazz! The jazz clinics this year are incredibly strong and will cover a wide range of topics.
The jazz sessions begin Thursday afternoon in the apple room with a two part session from Dr. Todd Wilkinson (Ottawa University). His first clinic is entitled, "Scale/Chord/Key: Teaching Music Theory to Your Band Students by Unfolding the Major Scale." This clinic will focus on using a major scale to navigate through typical chord progressions in jazz. The second session from Dr. Wilkinson, "Using the Melody as a Foundation for Your Jazz Ensemble Soloists," presents several ways to incorporate the melody into improvisation. Both will provide easy to achieve foundations for improvisation for students. Cheryl Lee (Blue Valley West) will provide instructional methods and ideas for your jazz ensemble in, "Debunking the Myth: Non Jazzers CAN Teach Jazz!"
Friday morning begins in the apple room with William Flynn and other professors from Wichita State University. They will discuss specific instrument roles, as well as the tools to get your rhythm section sounding better in, "Pianos and Basses and Drums Oh My! Immediately following in the apple room, Dean Sorenson (University of Minnesota) will discuss organized approaches of addressing important aspects of jazz such as ensemble work, improvisation and rhythm section work in, "Jazz Rehearsal Game Plan."
This year's all-state jazz director, Allen Carter (University of Minnesota-Moorhead), will present "Creating and Implementing a Game Plan for the Jazz Ensemble," at noon on Friday. This clinic will cover a number of topics such as phrasing, literature and the planning that helps create a successful jazz program. Marla Weber (Eisenhower High School) and Dr. Craig Treinen (Washburn University) will discuss their proposal for a state-wide jazz festival in the apple room Friday afternoon. Finally Marcus Lewis, who has played with such groups as Bruno Mars, the Ohio Players and Janelle Monae and has an independent jazz education program in Kansas City will present, "How to Play Jazz? How to Improvise? A Conceptual Approach." Marcus will provide simple concepts to aid young players who are just beginning to play jazz.