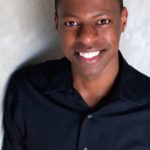 We are pleased to welcome Dr. Brandon Williams to direct the 2019 KCDA Treble Honor Choir. Dr. Williams is an assistant professor of choral music and choral music education at Rutgers, The State University of New Jersey. He conducts the Voorhees Choir, an ensemble that will make its Carnegie Hall debut in spring 2019, and teaches a variety of undergraduate and graduate courses related to choral music education. Dr. Williams appears frequently as a guest conductor, clinician, and presenter throughout the country.
As a secondary vocal music educator, Dr. Williams amassed a decade of middle and high school teaching experience in St. Louis, Missouri, where he also served as a conductor with the St. Louis Symphony IN UNISON Chorus, the St. Louis Children's Choirs, and as an adjunct voice faculty member at Maryville University. His school ensembles received invitations to perform at the 2010 and 2013 Missouri Music Educators Association conventions, and his middle school students were featured on the GIA DVD titled "How to Make A Good Choir Sound Great!"
Dr. Williams holds degrees from Western Illinois University (B.A.), the University of Illinois Urbana-Champaign (M.M.E.), and Michigan State University (D.M.A.) where he was awarded the prestigious University Enrichment Graduate Fellowship Award. He also earned an Artist Teacher Diploma from the Institute for Choral Teacher Education. Dr. Williams has numerous compositions and arrangements published with Hal Leonard, G. Schirmer, and Mark Foster, and he has multiple articles published in the Choral Journal. Dr. Williams is a member of the American Choral Directors Association, the American Society of Composers, Authors and Publishers, and the National Association for Music Education. He also serves as a Collegiate R&R Co-chair on the New Jersey ACDA Board.
The KCDA Treble Honor Choir is composed of fifth through ninth grade students throughout Kansas. Their concert will take place on Friday, February 22 at 5:00 in the Century II Concert Hall.