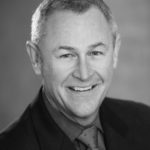 We are very pleased to introduce the 2019 Conductor of the 1234 State Honor Band, David Shaffer.  Mr. Shaffer comes to us from Boston, although he has taught and composed in Ohio, Florida, and Wyoming.  He holds degrees from Ohio State University, and was associated with the Miami University Marching Band for 30 years as Graduate Assistant, Assistant Director and as Director.
He has been in high demand as a guest conductor and composer all over the United States, and his compositions have been performed in Canada, Europe, Australia, and Asia.  Mr. Shaffer has been the recipient of the ASCAP Standard Award in Music Composition for 26 years.  Most recently, he conducted a program of his music with the China Youth Corps Band in the National Concert Hall in Taipei, Taiwan, and premiered his composition At The Red Creek with the Musikkapelle Roethenbach, in Roethenbach, Germany.
We are indeed fortunate to have David Shaffer to conduct the 1234 Band. This year's program will include three of his compositions.