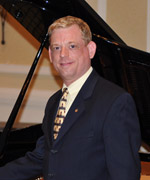 To quote the author Robert Ful­ghum, "All I ever really needed to know I learned in kindergarten." I would add, "All I ever really needed to function efficiently in the 21st century I learned through music."
We often hear of the importance of supporting students in the devel­opment of 21st century skills. The National Association of Colleges and Employers (NACE), a non-profit group that links college career placement of­fices with employers, conducted a sur­vey in 2014 asking hiring managers to prioritize skills they consider important when recruiting new employees. Those skills at the top of their list include leadership, working collaboratively, be­ing able to make decisions and solve problems, communicating effectively with people inside and outside the organization, and planning, organizing and prioritizing work.
Music education provides stu­dents with the opportunity to develop skills needed to be successful both in life and at work. I believe that music can impact our students' lives more than any other subject and that these requisite skills are made available by providing a quality, comprehensive and sequential music education.
What music teaches
While the teaching of these skills is a part of sound educational prac­tices, being consciously aware of how you teach and reinforce these skills can help your school and community see the importance of music as a key com­ponent to educating the whole child.
Music activities provide students with opportunities to develop founda­tional skills, including those that pro­mote social and emotional well-being, a sense of responsibility, strong character, adaptability, and a strong work ethic. Music awakens students' curiosity, initiative, civic mindedness, persistence, and leadership, as well as social and cultural awareness.
Not only does music teach skills from within the music curriculum, but it extends to those skills taught in other disciplines. Yes, the music itself is important, but the lessons students learn while being involved in a music program are of equal importance. Skills such as heightened personal discipline and responsibility, collabo­ration and teamwork, and leadership skills are learned, developed and nurtured in music classrooms.
Music students must work ef­fectively, rehearsing the small details before a performance and doing so creatively. They often must work under time constraints. Students must be able to "think on their feet," to react to some unanticipated occurrence in a performance.
Discipline and critical thinking
Musicians are pushed to set a goal and work through a series of intermediate steps to reach it. They must think critically and must plan and prioritize their work so that all the basics are taken care of in a timely fashion, allowing sufficient time for polishing the performance and making any adaptations that might be needed.
Music programs provide students countless opportunities to develop strong critical-thinking skills. Musi­cians must be able to analyze the various parts of a musical score and also synthesize those parts to un­derstand and appreciate "the bigger picture" and combine those pieces into a new whole.
When performing repertoire, stu­dents must carefully analyze notation to understand the composer's intent and the historical context. They must work diligently in exploring the best means by which they can bring that understanding to life through perfor­mance, whether for a critic, judge or for a community audience.
It is not surprising that music students become better communica­tors. This is not simply an outgrowth of the self-confidence gained through performance. Successful perform­ers are good listeners as well. They don't just hear, but learn to listen to nuances and silences. Effective com­munication is a two-way process, and learning to truly listen is essential.
In addition, music students de­velop empathy. Studying music opens new worlds for students, exposing them to cultures, people and ideas they might otherwise never know. Music study broadens students' perspective of the world in which they live. They learn to understand what motivates people, to forge relations, to care for others, and as a result be­come more thoughtful communicators.
Music students serve their communities through sharing music, and they experience the building of community through such perfor­mances. Music activities help build and strengthen the bonds between schools and communities, to every­one's advantage.
Franklin D. Roosevelt once said, "We cannot always build the future for our youth, but we can build our youth for the future." Offering opportunities for students to participate in music activities is an excellent way to do so. In the 21st century, it is even more vital.