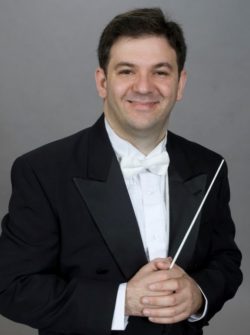 The Youth Symphony Orchestra of Santa Cruz Sierra [Orquesta Sinfónica Juvenil] (OSJ / SCZ) in Bolivia is a non-profit organization that serves mostly low-income students. This singular organization in Santa Cruz Sierra provides free private instruction and transportation to its members, most of which come from low-income homes. OSJ has been consolidated into its current format by the US Embassy and the Association (APAC) Pro Art and Culture in 2003 from earlier attempts. Dr. Kenneth Sarch was the founding conductor of this organization. Since 2010, Boris Vazquez has been serving as the Music Director and Conductor of this orchestra. Having studied at the Conservatory in La Paz, Bolivia, and Berlin, Germany, Boris Vazquez is an immensely energetic conductor and thoroughly devoted educator. His positive influence and natural rapport with his orchestra members is immediately apparent–both on the podium and off.
The violin instructor of this orchestra is an illustrated Czech violinist, Jiri Sommer. A native of Prague, Mr. Sommer is a graduate of The Prague Conservatoire [Pražská konzervatoř], holds the distinction of Master of Violin and firmly holds to educational traditions of Otakar Ševčík. Having performed at numerous acclaimed European festivals such as the Amsterdam, Avian, Bayreuth, and Prague, Mr. Sommers instills inspiration and influence on his students, and passes on the academic violin-playing traditions he gained by his conservatory education and solidified by his experiences as a professional violinist in Europe.
The Board of this ensemble is composed of among the most influential and established citizens of Santa Cruz. The President of the board is Marcela Urenda de Leigue, who is an energetic leader. Also, Maria Alicia Crespo de Parkerson is the perfect example of vision and practicality personified—who utilizes her international connections to help realize innovative programming and projects of this ensemble.
The members of the orchestra are a highly motivated and talented group of young musicians. From the youngest (about the age of nine and ten), to the oldest (twenty-two), they share a common enthusiasm and a truly serious drive to learn. This attitude is instilled and reinforced by their music director, and their instructors—who sit side-by-side at rehearsals and performances and provide an excellent model of tone, technique, and professionalism. Although, for example, Mr. Sommer sits in the back of the section to give his students a chance to lead, during rehearsals he comments when necessary—much like a Concertmaster.
Throughout my twelve-day stay in Santa Cruz, Bolivia, I rehearsed with the ensemble, offered master classes to individual ensemble members. Additionally, on two occasions, I lectured a total of 340 students in two classes at Centro Boliviano Americano, and addressed an elite group of Rotary International members during their South American District Conference.
During our rehearsals, Maestro Vazquez was present to help with the preparation of the Disney Magic concerts. The music was mailed from Disney directly to Santa Cruz, and Maestro Vazquez has worked on preparing the orchestra for our performances. Upon my arrival, I started working with the orchestra already familiar with the music. During our rehearsals, we worked on syncing our tempo to match the projection perfectly—which were specially edited movies of Disney to match the scores we were performing. During our rehearsals, we focused on technical, musical, and stylistic concerns, as well as balance. It was truly remarkable to observe the continued attention and responsiveness of the students throughout the long rehearsal sessions. Our rehearsals would run well over three hours, and require a demanding and continuous focus.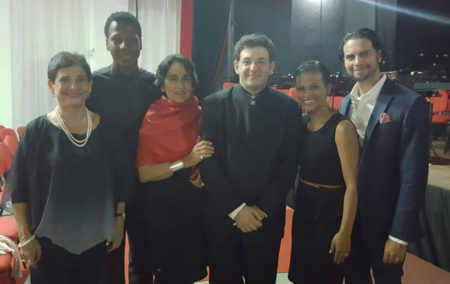 I was impressed with the quality and function of this program. When given the opportunity, I asked the Director of the Orchestra a set of 12 questions, wondering how the program operates:
Typically, do students have previous experience on their instruments, before joining OSJ?

Yes. [The students have] from two to four years [of experience when they join OSJ]

Do lessons cost?
Does OSJ membership cost?

No. [Furthermore] the students receive transportation allowance of $70 for each concert [and in many cases, receive instruments if they cannot afford it].

What scholarships with which institutions are available for those students?

Universidad Privada de Santa Cruz de la Sierra.

Typically, for how many years does a member perform with the Symphony?

As long as [the students] wishes, until the age of twenty-two.

How many concerts does OSJ perform in a year?

Anywhere from four to seven, however, usually six [concerts].

What repertoire is performed—as in standard, vs. non-standard?

Bolivian music, standard repertoire, pop music, tangos, jazz, German, Slavonic, Norwegian, and other international repertoire.

What is the typical degree a student may receive at the end of their residence/membership with the Symphony?

OSJ is a non-degree granting institution, and currently, students only receive] instrumental instruction.

What career options are available for those students once they complete their studies with the Symphony?

Depending on their studies [that they are pursuing concurrently with their OSJ membership].

On what particular instruments do you offer instruction?

The violin, viola, cello, string bass, flute, clarinet, bassoon, trumpet, horn trombone, percussion—but no oboe instruction. [Out of the above,] the only true professional instructors are the violin, cello, bassoon, and percussion: a total of five. [All of the private instruction is free for the students, and this service has been sponsored by Banco Fassil—a local bank.]

Typically, are those instructors selected from the orchestra?

Yes, with the exception of the above five [professional] instructors.

What are your goals for the future of the Symphony?

To build the OSJ into a certificate-granting institution.
My overall experience with the Youth Symphony Orchestra of Santa Cruz Sierra was an immensely positive and inspirational one. First of all, observing the educational opportunities that OSJ creates for those financially depressed students first hand, and getting to work with those truly enthusiastic students—whom otherwise do not have another outlet for such an activity—has been a marvelous encounter. OSJ, much like El Sistema in Venezuela, sets an example and makes one wonder about the unexplored music education possibilities in Kansas, particularly engaging otherwise underserved communities in pursuit of equity and diversity.